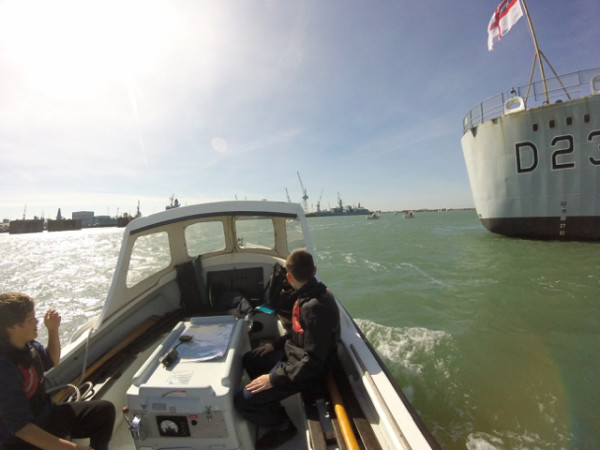 During a Scout meeting, we planned a route from HMS Bristol to Fareham Creek. On the 25th March 2017, we went to Portsmouth Naval Base. After arriving we got changed on HMS Bristol. We then went and got all of the equipment for our boating trip; for example we had to bring the following:
Identification – in order to get on the Naval Base

Full uniform including bosuns call

Suitable clothes and footwear to wear boating

Radio

Chart map

GPS tracker
We went and took the cover off the boats and put all of our equipment in. Then we started the boats and after that we went a filled it up with fuel. James and I swapped over steering the boat and the other person would be controlling the throttle. When we got a quarter of the way we started to do skills and controlled manoeuvres.
When we got to Fareham Creek, we stopped and had lunch.
After lunch, we started to head back and practiced some more manoeuvres and we had a go of steering alongside a buoy then reversing manoeuvres.
When we got back we had to tidy up the boats and take all of our stuff out then re-covered it. When we got back on HMS Bristol, we had to get changed back into our uniform, went to the minibus and drove back to the Fancourt hall. We cleared out the minibus and everyone went home after a fun day.